About
Rob Scheffelmaier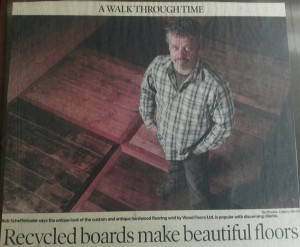 Owner and artisan, has over 25 years experience in the hardwood flooring business and a lifetime in the wood business. Before starting Wood Floors, Rob worked as a Certified Saw Filer in the lumber business. He has been working with wood and wood products since he was a teenager.
Rob saw the need for one-of-a-kind flooring and evolved his company to specialize in Reclaimed and Wide Plank flooring. Not only are products sourced across Canada, but Wood Floors is the exclusive distributors for a custom made, Wide Plank Manitoba Oak produced from salvaged logs.
Wood Floors is not "just a supply" company. We know wood! We have created, milled, kiln dried and manufactured custom flooring, doors, stand-alone cabinets, tables and other specialty items to suit customer needs. When you work with Wood Floors, you are working with a true artisan.
We have worked with numerous homeowners and businesses throughout Alberta, B.C. and Japan. Whether we're working on a floor for the homeowner, or creating specialty products for businesses, Wood Floors takes pride in their work!
Check out some of our exclusive work at the following businesses:
Cibo Restaurant
Phil & Sebastian – Chinook Mall
Cucina Restaurant
Cha Chi's – Chinook & South Centre Mall
National Beer Hall
Clive Burger
Bonterra
Scopa
The Palomino Smokehouse
Cave & Basin WWI museum