Finishes
At Wood Floors we use the best products available to give your floor the finish you want, a finish that will stand the test of time.
Wax
Wood Floors was one of the first companies in Calgary to bring back wax finishes for hardwood floors. This is nothing like the wax of our grandmothers where each year the wax had to be stripped and rewaxed.

Once a wax has been applied, the wood retains its natural appearance and feel and will become hard-wearing, non-abrasive, water-repellent, and dirt-resistant. A wax finish allows your floor to breath and won't impair the natural properties of the wood.

With a family of 4 the average recoat time is 5 to 7 years. Spot touch-ups, like scratches & high traffic areas, are easy to do and require very little effort with no visible brush marks.

Wood Floors uses SAICOS wax finish and OSMO wax finish. Both of these products are naturally derived from vegetable oils and waxes. They are benzene free and comply with tough European and North American environmental standards for healthy and purity — approved even for use on children's toys.

Award Winning products recognized by Sustainable Industries.
Waterborne
Bona Swedish Technology – www.bonakemi.com

Bona's advanced Swedish technology provides premium quality and consistent performance. Their ability to customize high-performance formulas, results in the world's finest finishes with unsurpassed durability and beauty. Bona's waterborne finishes are healthier for you and the environment, and there's no need to vacate the jobsite during refinishing. GREENGUARD certified for indoor air quality. With fast dry times (1-3 hours) and cure times (80-90% in 3 days). Bona finishes are the most durable polyurethane finishes of any kind – waterborne or oil-modified. Clear, high build finishes won't amber or change color over time, highlighting the true beauty and elegance of the wood.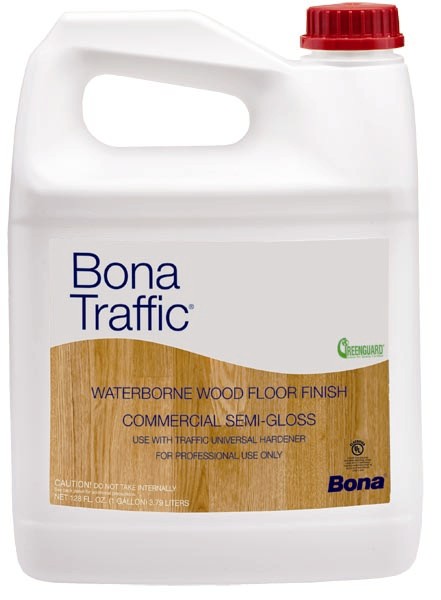 bonatrafficBona Traffic®
Bona Traffic®is the industry's premium finish for durability and beauty.

Designed specifically for the unique demands of heavy-traffic commercial and residential hardwood floors, Traffic's advanced formula provides the ultimate in durability, outperforming any finish in the industry – moisture cure, solvent-based, oil-modified or other waterborne finishes.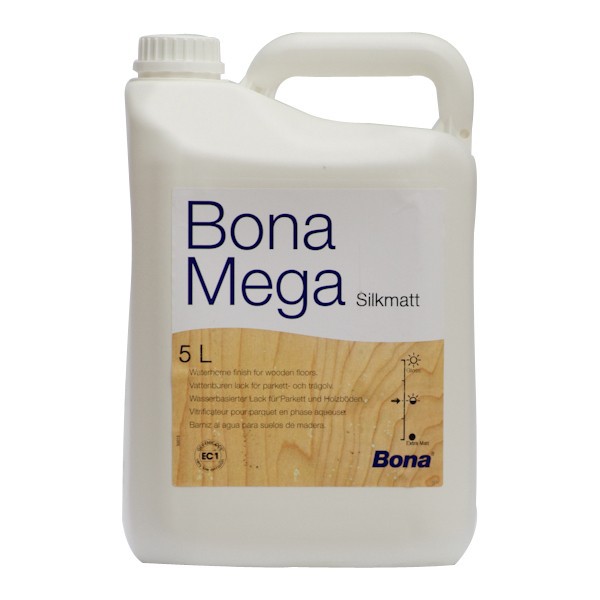 bonatrafficBona Mega
Oxygen-cross linking polyurethane (OCP) waterborne formula with extraordinary performance. The oxygen in the air is the cross linker. No additives to mix, no limited pot life and no wasted finish.

Bona Mega® is the proven performance and value standard in the industry.